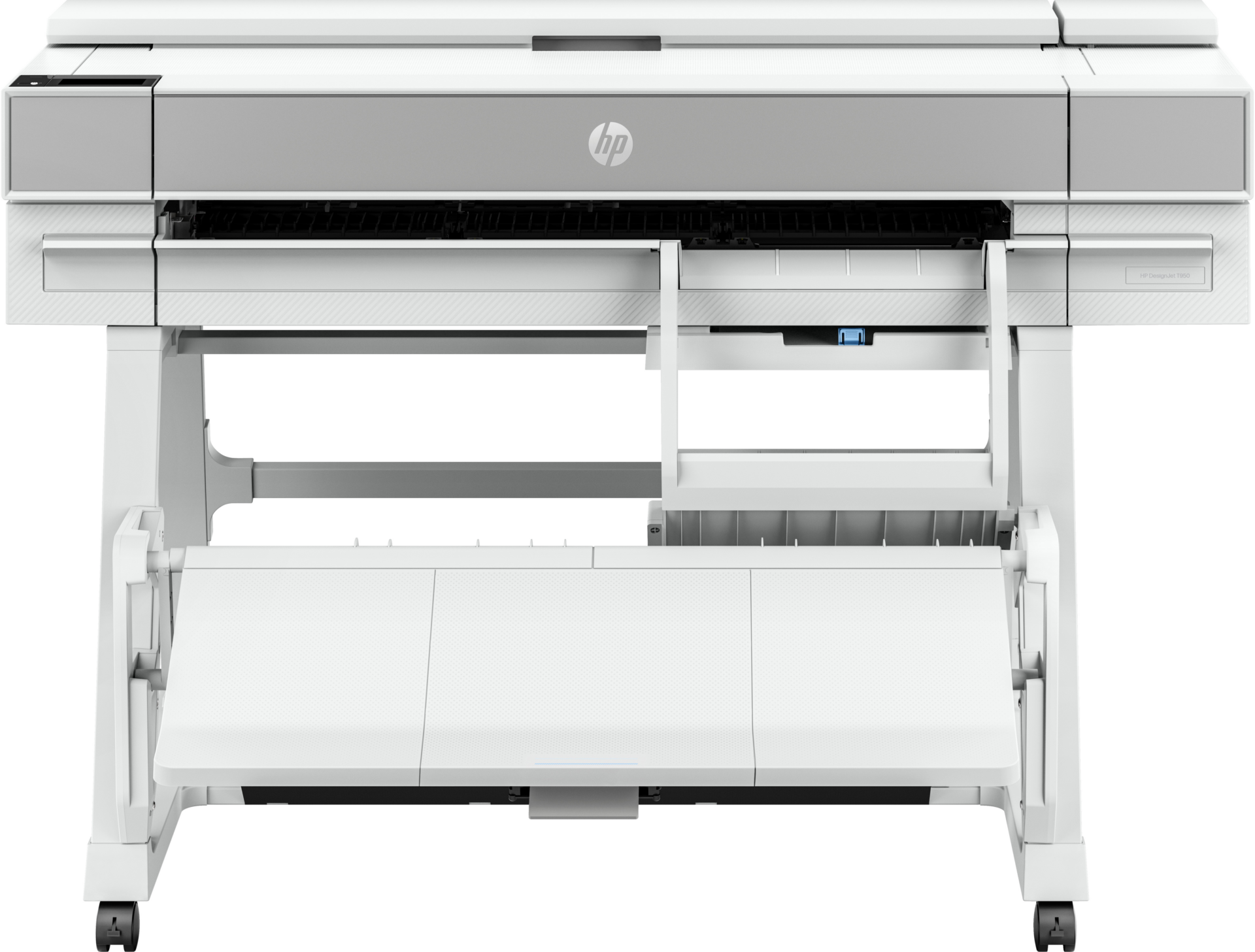 HP DesignJet XT950 36-in Printer
The world's most efficient half size to D size printing experience to boost productivity. MOST EFFICIENT: Save time, get through more jobs CONNECTED: Work securely from virtually anywhere GO BEYOND: Meet office and environmental needs
Pick up your jobs quickly and simply stacker holds up to 40 pages flat for easy collection. Do it all seamlessly print your half-size jobs with integrated input and output trays, keeping pages sorted by size. Move projects forward with fast print speeds, 300- ft roll, and high image quality with pigment-based HP Flex Tech Inks. Save time with HP Clickprint in fewer steps and avoid printing errors with print preview. Protect your printer and data from cyber threats without any effort thanks to HP Wolf Pro Security. Stay on task with HP app manage your device and print from virtually anywhere using your mobile or tablet. Advance environmental goalsprinter is made with at least 35% recycled plastics and supplies can be recycled . Invest in a robust and compact plotter that's designed to last. Reduce energy and ink wasteauto schedule printer on/off usage and enjoy efficient ink maintenance routines.
Request a Quote
Our customer service does not end with the sale of a printer—That's just the beginning! After delivery of your printer, LCR's authorized technicians will arrive on site for product installation and then provide hands on training for key personnel. We will also be there to provide ongoing product support as you gain experience and proficiency with your equipment and need answers for more advanced questions. We are dedicated to providing the best service and support in the industry by keeping all lines of communications open. We will be in constant contact throughout the life of your printer by providing information on software upgrades, new media, discounts, and special offers. Call us now at 888-844-6001
For customers wanting a peace of mind regarding their printers, LCR offers service agreements, maintenance contracts and extended warranties. The terms of each agreement (duration of each contract and coverage of parts, labor, and travel) can be varied to meet your needs. Contact us to discuss a plan tailored to your business.
HP Care Packs can also be purchased through LCR, annually or as an extended warranty. With this extended warranty, we perform the services and HP provides the parts. LCR will be the first point of contact, which alleviates the need to go through the HP call center and escalation process. Let LCR provide you with fast service from a professional technician who knows and understands your work environment. Call us now at 888-844-6001